~ Petrişor Militaru [translation: Andreea Diaconu] - She Reads
~ Petrişor Militaru [translation: Andreea Diaconu] - The Cripple Tells Me about the Triple Hecate
~ Petrişor Militaru [translation: Andreea Diaconu] - On the Objects in the Attic
~ Alx.Z - the long dead man cut short
~ Alx.Z - ruth is having my baby
~ Alx.Z - the long trips outta town
~ Adrian Ioniţă - The Infected Unseen
~ Adrian Ioniţă - Too much for a week

She Reads
by Petrişor Militaru
[translation: Andreea Diaconu]
She reads my flesh.
Swiftly she moves her lips
bringing them closer to you
the upper one goes downward, the lower goes away.
The mole under her eye severs
each line,
she scours through the insides of books
from beyond the dunes of her inner desert.
She pours out her breath, the words which have become her.
She'd have me speak to her,
but I prefer to smell and take her in.
I don't listen to her read.
But trace the contour of her lips, am lost in it.
I lie in waiting. My every word succumbs
to the knowledge that there`s no need, she knows
the hymn I raise in praise of the triple Hecate.

The Cripple Tells Me about the Triple Hecate
by Petrişor Militaru
[translation: Andreea Diaconu]
We had gone to the morgue and seen how
transparent the body is like the breeze in a cloak.
The Gods had come down to helplessly witness
our disputes over the attributes of flesh.
I wore a shirt with buttonless sleeves and
as soon as I got there I
searched the pockets of the outstretched body.
To remove the load. Take out the feather.
When it is no longer yours the body touches you.
It feeds on you.
You have forever removed the load with the feather.
And then the ascent. Rise. Rise. Red.

On the Objects in the Attic
by Petrişor Militaru
[translation: Andreea Diaconu]
panda butterflies are born at the end of August
the form of their wings is sculptured in writing each autumn
panda butterflies multiply by three
in the mating season they sleep together
alongside a common word their wings
are as large as a human palm extended
they are always born at dusk
sometimes they resemble a thrust
towards an elastic tunnel of silence
a walk above matter
and light movements sprout that day
a panda butterfly had dropped down on the roof
and more importantly panda butterflies
feed on church wine

the long dead man cut short
by Alx.Z
you may know and you may have the willingness
you may even care that i am not even remotely interested
the speaches and the backstabs go hand in hand
the grace and the gutter are all the same to you
and you place me under the barrel and give me my 3 seconds
your identity is similar to mine in that we come from ape and God
your frustrations are fed with billions,
lined up and good to go,
and you dare declare yourself anything.
i am nothing but i dare speak
you are everything although you wont shut up

ruth is having my baby
by Alx.Z
everything is about telemetrics ,
yr initials, yr number and yr smile.
the guarantee of a satisfied customer
the bank account shrinking
and yr total commitment to the job.

the long trips outta town
by Alx.Z
wounded bones made into yr emotion
the cascade of sweat driping from our lust
the deceipt and the love
you made creation
and nothing could be omitted from this
you know the name and you foregive
the thing required of you
yr neverending love to the method
the whole ant-mound is based on exactly that
the long trips outta town, the ones that pass
in the blink of an eye, the eyelash
that flips yr switch, that makes you lovingly blind
we come of desire, triviality is our wine
and we dance exhumed in the dawn of novelty
we seem to create very boring fashions

The Infected Unseen
by Adrian Ioniţă

[photo of a rabbit taken by a White House photographer (1)]
How deep are our memories? Some people claim to recall things from the time they were two or three years old. Others  even remember scenes from their past life. I am not very proud of this, but I have to admit that I am one of the weird and menacing characters compelled to remember times as far back as their first day of life. A bloody, violent, and cruel day. Not very pleasant, I can say. A moment marked with a loud cry, a good sign that birth is acknowledged by the exercise of our lungs and vocal cords. In my case, it was a blue moon silence. It seems that I was looking ghastly and frightening  when the doctor stepped back.
- "What is wrong with this baby?"
- "He is watching us", muttered the nurse.
- "Smack the bastard! " the nurse slapped me with openhanded sadistic pleasure.
- "What's going on?" asked my mother in obvious distress.
- "He has an attitude "
- "Oh Gush..."
- "I panicked", said my mother. "You had that Buster Keaton paleness, not a smile, no response at all. Just a hidden, morbidly curious look in your eyes. Papa tried everything. He painted the walls in pink, he did the Chu-Chu train, tried all the mega-super-giga-gaga you can imagine. But you offered no reply. And then, one day, God be blessed, Papa came home with a beautiful rabbit named Swampy. A miracle happened. When Swampy diappeared in the bathroom and hid out of your sight, you cried out- 
"Hey Jimmy, what's going on ?"
"Where is the rabbit gone? "
Therefore, these were my first words. Nothing like mah-mah, dada, bubba or any of that linguistic mambo-jumbo of a six-monther with an exploding Broca's Area. However, such a vocabulary spurt as "Hey Jimmy, what's going on, where is the rabbit  gone?" clearly begs for some explanation. It is a long sentence for god's sake, not a pithy interjection. My vow of silence in the delivery room came out of frustration. Nobody understood that birth is a big illusion, The Big Illusion.
There are exceptions of course.
Yesterday a young woman gave birth to a child while seated on the toilet and she did not immediately remove the child from the toilet. According to the police officer who investigated the case, she left the infant "submerged in the commode" for an undetermined duration. In the commode! Oh yes, a good choice of words. A white little bunny was found on the top of the toilet seat. That was not an illusion. She probably went through a hateful devaluation, maybe some guilt, panic, shame, or who knows, commode divination? For me, coming out from the womb was a matter of geometry, a game of restrictions and limitations, a banging between strong and opposite perceptions of self. I came out with a mind filled with mental representations, complex emotions and moods. Some would say, with an attitude.
After I had my  Bar Mitzvah, I did several regressions in time to find out the meaning of my perplexity when crying out for Swampy. I still feel the smell of amniotic fluid in the nostrils. Nothing became clear until April 20, 1979, when I understood that the answer was not in the past. It was in the future. Were you to ask me now - "Why did I write all of this?" I might, at first, find it somehow difficult to give an answer, but then, I might simply say - "Where is the bunny?"
(1) Courtesy of the Jimmy Carter Library

Too much for a week
by Adrian Ioniţă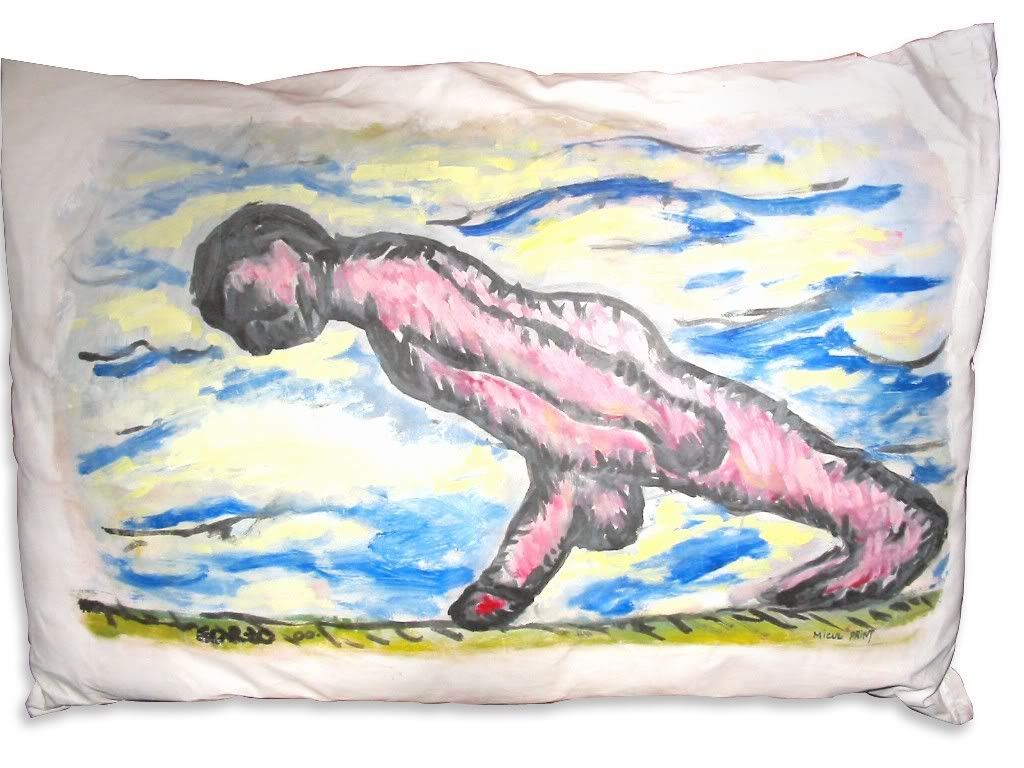 [©Dumitru Gorzo]
Saturday
Got up early. My tour around the block. Ghitza came late after a party at Stella. Like usual, Leon left me an early message. Found him lying in the grass at the corner. The police came and rushed him to Detox. In the afternoon, he rang the bell but I did not open the door. Bought a refrigerator and I cook daily. Its fun. On Memorial Day, quit smoking. The sky is the limit when somebody wants to change.
1. Kirpal Singh: Naam or Word, 1960, Delhi, Ruhani Satsang.
2. Daniel Gold, The Lord as Guru, 1987, Oxford Univ. Press

Sunday
In the morning, left for the flea market. On my way, Leon "anchored" so that I had company. We spotted a 1978 El Camino at the corner of Cermak and Rockwell. Seven-fifty, a price too good to pass by. I called from the nearby Laundromat and the owner of the car told me that he got already a five-fifty offer. I'll top it with a hundred. In 20 minutes, two guys landed near the Laundromat. Tom Rinko and Bob. Bob's face was looking like a skating ring, all slashed by a knife fight. Tom with a dubious complexion, no Hispanic, no Black, no White or anything like that. Pissed that he lost his five-fifty deal. Sunday morning all the banks are closed. I barely could squeeze two hundered from the teller machine. There is some drama in little things like this. They agreed to wait until Monday morning but we will have to pay the original seven-fifty and loose the hundred if I do not show up until 10 am. I told them that they can leave the car in the front of my building and the circus started again. Finally, Tom drafted a Sales Contract. All his fingers adorned with gigantic gold rings, the pen slipping between them, no wonder the paper looked like a Sanskrit document. After they left, a feeling of irreparable loss fell over us. The date on the paper was seven instead of twenty-seven, no address, no driver license #, no location specified for the delivery of the car... Hmmmmmmmm, Leon are we stupid or what? As time passed, Leon started to shrink on the idea that we lost the money so that I felt sorry for him; making fun helps in situations like this.
1. Radhasoami tradition by David Christopher, published by Garland Publishing Inc , NY 1992.
2. Mark Juergensmayer, Radhasoami Reality, 1991, Princeton Paperbacks and Radhasoami as trans-national religion.
3. Agam Prasad Mathur, History of Radhasoami, 1973, Delhi, Vikas Publishing House.

Monday
Got the El Camino. Leon was in heaven. The first car he did not have to steal. Ghitza went on the roof and sliced the dust extractor in pieces. It was a dangerous job but he managed to cut down the tip and the rest came down easy. At Cozzi with the chopped dust extractor (got him only 52 dollars for two trips). In the afternoon to a Greek dentist on Archer Ave. were I did my teeth cleaned for sixty. I left Leon with the El Camino in the front of McDonald's, gave him a twenty. When home, I found him sleeping in the grass, drunk like a Chinese fire drill.
1. Stanley White: Liberation of the soul, Beas 1972.
2. Kirpal singh: A great saint-Baba Jaimal Singh: his life, Teachings, Franklin, 1973, Sat Sandesh Books.
3. Dwight Kinman: the last universal dictator

Tuesday
Woke up depressed. Went to Kinko and did my drawing for the new job. At home, Art and a guy who wants to buy the Isuzu. Worked a little bit but I am weak. I opened a can of soup but did not touch it. Erin called. The difference between Divine Love and Natural Love. I see the natural love contingent with sexuality and money while Divine Love as a more abstract, self fabricated emotion. I decided to go to the meeting. If you open the eyes of a sleeping person, he won't see unless you wake him up. Yes. On my way home, bought cheese and a food shredder. It was a long drive with many stops; 50 lb. of potatos, onions, cabbage, grapes, and apples. Delicious. Blue Cheese, 3 years old cedar, and veggie jack. A huge moon like an enormous pumpkin greeted me when I entered Chicago. I bought also a Potpourri Steamer and gardenia scents.
1. Aaron Talsky: The Radhasoami Tradition, 1986, Univ. of Michigan.
2. Lawrence Babb: Redemptive Encounters, 1986.
3. Philip Ashby: Modern trends in Hinduism, NY. 1974, Columbia Press Univ.

Wednesday
Went to the Circuit Court. Dismissed without any hearings and got back my driver license. Bought myself a nice Timberland raincoat, some Eddie Bauer shirts, pants, and my favorite Salamander shoes. Also some gifts for Eric and Chris. Almost lost my plane to New York. At La Guardia, I took a taxi for North Berry St. in Brooklyn. The cab driver dropped me five miles away from my destination. When I got out I was so nervous that I left in the taxi my valet, all my credit cards, ID's, addresses and the checkbook. The worst moment of my life. A young and attractive woman, Dara, dragged me in her art studio. Her cat Kitty licked my invisible tears. By some miracle, she found Eric on the phone. I asked her to marry me. She told me about a boyfriend in London, but than she embraced and hugged me for more than a second. We went downstairs and the big miracle happens: the taxi driver came back from La Guardia to bring me the valet. I love New York, I love Dara and the taxi driver. I thought that he is from Russia, to my suprise I found out that he is from Israel. Life is wonderful. A big sign that things are coming in place. Slept at Eric's studio.
1. Applewhite, E.J. PARADISE MISLAID. NY: St. Martin's Press, 1991

Thursday
In the morning, went with Chris to the Strand to see some books, than in Soho, were I bought a pullover and a pair of Moschino sunglasses. With Dara at the Russian Tea Room, seen some galleries, bought pita, smoked swordfish, a bottle of Chardonnay, and fucked all afternoon. She is a NY Marathon runner. In the evening at Barolo where we had black linguini and met a guy Barry from Vancouver. He opens a new gallery in Singapore. Crashed in a place on Prince Street were we hired a girl to sing. She knew only one song.
1. Hans Ulrich Rieker: The Yoga of Light, 1974, Lower Lake CA. The Dawn Horse Press

Friday
Back to Chicago for the Rodger meeting. He came with his clients from Winnetka. Arnulfo is still working in the bathroom. This guy is slow like a turtle. Linel called from LA. I hate airport pick-ups. I told him to take a cab and did reservations at Maggiano's. In the evening, my research on Radhasoami, as usual.
1. Marvin Henry Harper: Gurus, Swamis and Avatars: Spiritual Masters and their American disciples
2. Max Muller: Ramakrishna: His Life and his work, 1899 (about Salig Ram and Radhasoami)
3. Lekh Raj Puri: Mysticism: The Spiritual Path, 1938.
4.Brian Walsh: The Satguru in the Sant Tradition, 1992, Mt. San Antonio College Press.

Saturday
Terrible news. Leon died yesterday. He had several shots of vodka and a bottle of rum and went to sleep in the grass. Outside: 110 degrees. Died in the ambulance on his way to the Cook County Hospital, than his body was sent to the Cremation Society. Always told me that he will jump from the Sears Tower. The guy was for real. We should have robbed that armor truck together. Start smoking again.
1. Charan Singh: Die to Live, Beas, 1979